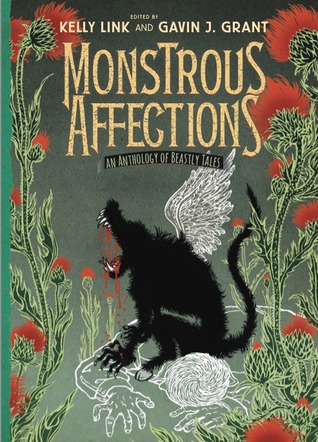 Monstrous Affections: An Anthology of Beastly Tales
, a new anthology by
Kelly Link
and Gavin Grant, was an interesting and surprising read. Interesting because, duh, anything the duo behind
Lady Churchill's Rosebud Wristlet
puts together has to be great. And surprising because nothing on the cover prepared me for its YA-focus.
And let's talk about the cover, created by Yuko Shimizu, for a second, because it is incredible. Red thistles explode out of line-drawn stems. Blood drips from the maw of a fully-colored toothy black beast as it crouches over a prone, line-drawn man… his prey, we assume. Out of the beast's back arise feathered wings, again line-drawn. I love the contrast between beast and angel implicit in the central image, but I also love the contrast between areas of saturated color and the line-drawn areas of the image. It's as if the image is still under construction, as if the story hasn't quite been set in stone yet.
Which is probably a good metaphor for a lot of the stories contained in Monstrous Affections. After all, they allrevolve around teen protagonists, characters whose stories are still being written. And the emphasis of the collection is as much on "affections" as it is on "monsters." In these stories, human (or not-so-human) desires can make characters display monstrous characteristics, have monstrous effects on their lives, or even be monstrous — disallowed, verboten, socially unacceptable — themselves. Several of the stories are set in high-school, probably because emotions and their consequences are heightened here. A building full of teenagers, their hormones bubbling like a cauldron, their bodies in the throes of changes they don't understand and can't control? Perfect place for Monsters and their nasty Affections to reign supreme.
Monstrous Affections
contains some of the usual suspects: demons, fairies, harpies, vampires. Surprisingly, perhaps, no werewolves, the ultimate symbol of freaky puberty (all that hair!). But it also includes some non-European monsters, such as
Nalo Hopkinson
's Jamaican ghost and
Dylan Horrocks
' Maori river spirit. Other writers created entirely new monsters, like
Holly Black
's spider-legged alien who's really not as bad as he seems. Or
G. Carl Purcell
's "mercurials," beings made of shining silver liquid that burrow into live fat and control the humans they feed upon, who are exactly as bad as they seem.
Not every story thrilled me — a couple of them bored me — but by and large, I enjoyed the anthology a lot. My favorite moments were funny, clever, or shocking by turns. I especially loved:
The quiz in the introduction, which asks you to answer "true" or "false" to the following statement: "It's kind of creepy the way vampires are always hitting on high-school kids." (Link's love of Buffy definitely shows in some of the questions and answers on this quiz.)
The clever list-narrative format in Holly Black's "Ten Rules for being an Intergalactic Smuggler (The Successful Kind)."
Patrick Ness's description, in "This Whole Demoning Thing," of falling out of love with a boy the moment he smiles at you companionably, winks at you, and makes you one of the gang.
Everything about Sarah Rees Brennan's "Wings in the Morning," which was such a great love story.
Nic Houser's "Son of Abyss," which explores the forces of love, persuasion, terror, and terrible families.
Kelly Link's teen girls filled to the brim with catty schadenfreude in "The New Boyfriend." Also, her invention of the robot boyfriend.
The surprising moment of sheer horror in Joshua Lewis's "The Woods," when you suddenly see the monster as human and, somehow, he's more horrible than ever, the way actual serial killers are way scarier than vampires.
*This review originally appeared
here
at FantasyLiterature.com, where I gave the book 4 stars.